If you have a PIN number, you fall below the taxable income category of Kenyans and even if you did not pay taxes during a year, you are required to file nil returns. This group of people may include college and university students or the unemployed. In this article,we are going to share the step by step guide that you need to follow in order to file your KRA Nil Returns using the KRA iTax Portal. By the end of this article, you will have learnt how to file KRA nil returns if you have a KRA PIN and not employed just yet. Avoid the last minute rush and penalties by filing your Nil KRA Returns before the 30th June 2020 deadline.
KRA Nil Returns applies to those who do not have a source of income sometimes referred to as the unemployed. Source of income in sense that the taxpayer does not have income from Rental, Business or Employment. Kindly note that every Kenyan, who has a valid KRA PIN is required to declare their annual income every year before 30th June of the following year.
Also read:
If not employed and do not have an alternative source of income i.e Rental, Business or Consultancy income you file nil returns. If you have a KRA PIN, the law states that you should file a return. If you have no income file a nil return. Failure to do so as indicated in the Tax Procedures Act leads to penalties. late filing of returns accrues a ksh. 2000 penalty (as of the time of writing this post).
How to file KRA nill returns
Please note that you do not require an extra nil tax return form to file your nil returns as the process is just similar to that of filing the normal LKRA returns. Furthermore, the development of iTax that went live in 2013 has made it easier for Kenyans to file their annual KRA tax returns. That is because you can do it at the comfort of your office or house without having to visit KRA offices.
1. Login to iTax Visit https://itax.kra.go.ke/KRA-Portal On the left-hand side. you will see an empty tab, enter your KRA Pin number or User ID here and click on continue. Enter your password and key in the answer to the Security Stamp question (Security Stamp is something like 10+8=??) In case you don't remember your password, just click on forgot password located at the bottom right of the page and follow prompts to set a new password.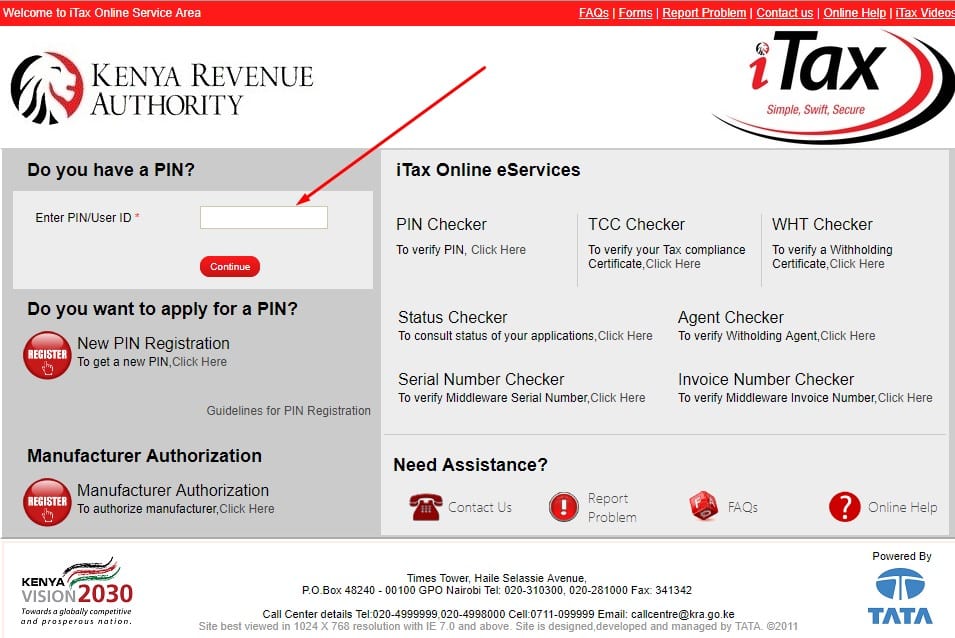 2. Select File Nil Returns After a successful login. you will be redirected to a page with a red menu top. Click on the 'Returns' icon and a drop-down menu will appear; select the File Nil Returns option. You will be required to fill in some information as indicated below.
Type: Self Taxpayer Pin: Your Pin Tax Obligation: Income tax Resident. After you're done click on next.
3. Select Income tax- resident individual nil E-return. You will be redirected to a new page and you have to key in your KRA Personal Identification Number, Wife Pin (leave it blank if you're not married), Return period dates which in this case (example) in 2020 will be 01/01/2020 to 31/12/2020 (this is automated, once you click on the small calendar on your right). Press the submit button after you are done filling the above information.
If the submission was successful, an e return acknowledgment receipt KRA will be generated on the platform. Click on download Return Receipt, and you will be done. The above procedure takes just a few minutes to complete provided that you have a stable internet connection on your electronic device.
If you liked this article on how to file KRA nill returns, then please subscribe to our YouTube Channel for videos. You can also find us on Twitter and Facebook @sokoradar.