Tables are a great way to display data in an understandable format. Whether presenting various types of information about one particular thing or comparing multiple things on various terms, a table is really useful to provide more information at a glance. So, adding tables in WordPress posts and pages may be an essential query for the WP site owners. If you do not own a site then don't mind – we got professionals to help you do that in a few days. Simply visit our free site set up page and you will be set to go. in this article we will walk you through how to create tables in wordpress.
Also read:
In the past, you needed to use a plugin or HTML code to create a table in a WordPress post or page. In this article, we'll show you how to create tables in WordPress posts and pages without using a plugin or any HTML code.
How to create tables in wordpress
Simply create a new post or page, or edit an existing one. Once inside the content editor, click on the (+) symbol to add a new block, then select 'Table'. You can find it under the 'Formatting' section ,or you can type 'Table' into the 'Search for a block' bar.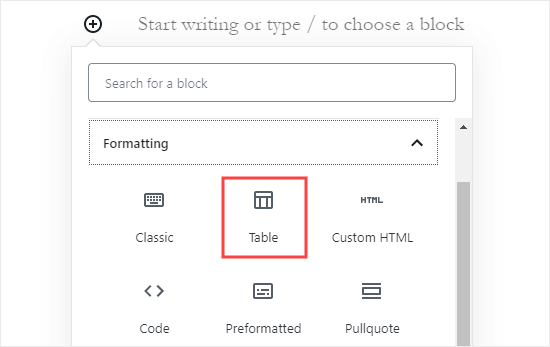 Next, you'll be prompted to choose how many columns and rows you want for your table. Both figures default to 2. Don't worry if you're not 100% about the exact count because you can always add/remove table columns and rows later.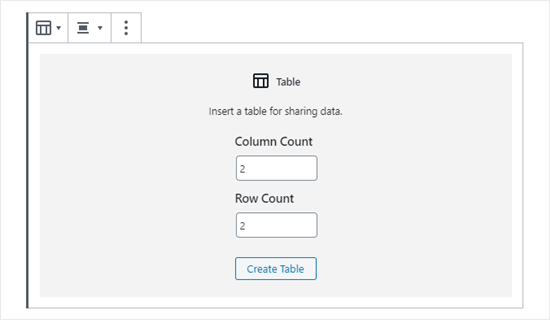 We've created a table with 3 columns and 4 rows:

You can type in the table cells, and they'll automatically resize depending on how much content is in each. If you'd prefer your cells to be fixed-width, then you can set this option on the right-hand side.
You can also add a table header or footer section here.
If you want to add a new row or column, just click on a cell at the point in the table where you want to add it. Next, click the 'Edit Table' button. Here, we're adding a new column on the right hand side of our table: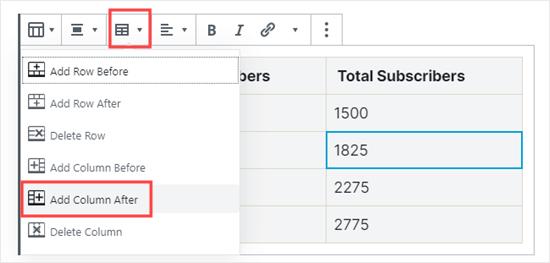 You can also delete rows and columns in the same way. Just click on a cell in the row or column you want to remove, and select 'Delete Row' or 'Delete Column' from the 'Edit Table' menu.
By default, the text in your table's columns is aligned to the left. You can change this by clicking in a column and then clicking the 'Change Column Alignment' button: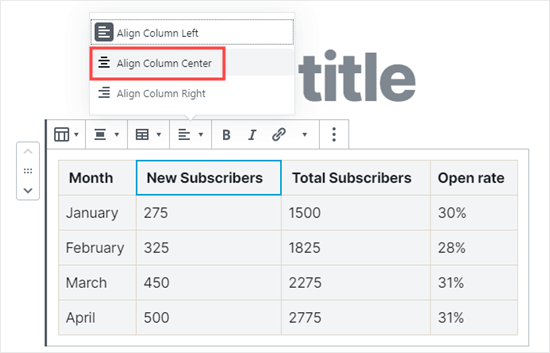 You can also change the alignment of your whole table within the post or page by clicking the 'Change alignment' button and selecting an option from the list.
Note that these options can make your table display beyond the normal boundaries of your post area. Some may look odd on your site, so please make sure to preview your post or page to check how they appear. Since this feature though flexible, it is limited on features such as it doesn't let you easily use the same table across multiple areas of your website such as sidebar widgets or other pages. Also, Tables created using this block it may stretch beyond the post borders.
We advise that you get a plugin if you want create advanced and more descent tables. We recommend wp data tables. It is the best we could recommend. out of more than one thousand reviews (as per the time of writing this post) and over twenty thousand sales. the plugin still boast a five star out of five. Click here to check it out
That is how to create tables in wordpress. #We love you